What is the Goal Pressure Index?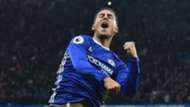 The margins of error in modern football are finer than ever. With the world's top talent concentrated in the major leagues likes never before, games are won and lost in a flash.
A low-scoring game like football is decided in these moments, by a player's ability to perform under the most intense pressure.
For the first time ever, there is a system to measure and rate a team and player's performance in the crucial moments and crucial games in the heat of the Premier League arena.
The Goal Pressure Index uses more than 750,000 data points as well as factors including league position, point in the season and the opposition to calculate a rating out of 100 for every Premier League player every week.
Over the course of the season we will be keeping you up-to-date on which players are handling the pressure the best, showcasing the top 5 players each week in the Premier League.

The Goal Pressure Index isn't just based on skill or ability. You'll see players and teams featuring from the top of the league to the bottom.

Keep an eye out on Goal for all this week as we'll be applying the innovative Goal Pressure Index algorithm to some of the most famous moments in Premier League history.
The Goal Pressure Index is presented by Sure, Official Partner of Chelsea, Everton and Southampton FC