Nigeria v Argentina
We're confident of beating Argentina - Nigeria coach Gernot Rohr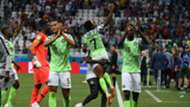 Nigeria coach Gernot Rohr is 'confident' of defeating Argentina when they clash on Tuesday evening at Saint-Petersburg Stadium in the ongoing World Cup.
After a shaky start to the tournament, the West Africans reignite their hope of making the round of 16 with a victory over Iceland.
The Super Eagles last met with the Albiceleste in November 2017 and cruised to a famous 4-2 triumph.
And although they have lost in all their previous meetings [4] to the South American giants in the tournament, Rohr is upbeat that the Super Eagles will halt the trend against Jorge Sampaoli's men in the crunch encounter.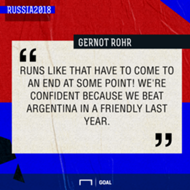 "Runs like that have to come to an end at some point! We're confident because we beat Argentina in a friendly last year," Rohr told Fifa website.
"We were 2-0 down at half-time but went on to win 4-2. Lionel Messi didn't play in that game but we scored four wonderful goals. That gives the boys hope. We're ambitious underdogs; Argentina are definitely the favourites.
"With youthful abandon, enthusiasm and desire [we will win]. Most of our players want to get to where the Argentinians already are: the very top. The whole world will be watching this game and it's a chance to show what we're capable of."