Saint Louis v Chicago Fire
WATCH: Solignac scores clever heel flick to give Chicago the lead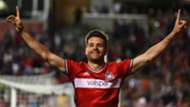 It may not have come against a fellow MLS side, but Luis Solignac's goal Wednesday night for the Chicago Fire was quality no matter the opposition.
Taking on USL side St. Louis FC in the fourth round of the U.S. Open Cup, the Fire were always likely to face a side that would be aiming to defend deep and frustrate the MLS club. But Solignac made it all for naught in the 27th minute as he managed to flick a Brandon Vincent delivery off the back of his heel, over St. Louis goalkeeper Adam Grinwis and into the net for the 1-0 advantage.
Pulisic unlikely to play in Gold Cup
An early case for goal of the #USOC2017 from @LuchoSoli . pic.twitter.com/JlCIDBkog2

— Major League Soccer (@MLS) June 15, 2017
It was Solignac's first career goal in the Open Cup and his fourth in all competitions this season with the Fire.
That goal proved the difference as the Fire advanced into fifth round of the U.S. Open Cup with the 1-0 victory.