Videos
WATCH: Is this the worst own-goal of the season?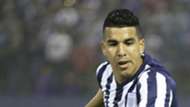 Own goals are often excusable. Often they are the result of a simple misreading of a bounce or being caught at the wrong place at the wrong time and, though embarrassing, can be easily laughed off.
Academia Cantolao's Paulo Albarracin, however, will find it difficult to escape the torment after his incredible blunder that saw his side fall behind in their 3-1 home defeat to Ayacucho in the Peruvian League.
With his side trying to play out from the back but finding it difficult to move the ball forward, the midfielder received a square ball on the edge of his penalty area.
His goalkeeper was standing at the side of his goal to present a passing option, but the 27-year-old assumed he was standing between the posts.
Without looking up, he casually rolled it towards the goal, watching in shock as it crossed the line.