Liga MX
VIDEO: 44-year-old keeper Oscar Perez scores dramatic equalizer for Pachuca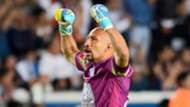 It's not every day that a goalkeeper finds the back of the net. It's also pretty rare to find a player over the age of 40 playing, let alone scoring a goal.
But Pachuca keeper Oscar Perez managed to check all three boxes Saturday evening against his former club Cruz Azul.
With Pachuca trailing 2-1 in stoppage time, Jonathan Urretaviscaya delivered a good corner into the area. Perez, nicknamed El Conejo, or "the Rabbit", charged forward and hit a thunderous header that rippled the back of the net for the dramatic equalizer.
GL del portero Oscar Pérez @Tuzos 2-2 @Cruz_Azul_FC #J16CL2017 #LIGABancomerMX
#SienteTuLiga    #ElFutbolTeMueve pic.twitter.com/w5YKl1sHc3

— LIGA Bancomer MX (@LIGABancomerMX) April 30, 2017
Then 2-2 scoreline was how the contest finished. 
Believe it or not, that was not Perez's first career goal. The former Mexico international scored for Cruz Azul once during his long career there and also netted a goal while playing for the Mexico under-23 side – which was over 20 years ago.