Arsenal
WATCH: 10-man Arsenal tops Burnley in wild finish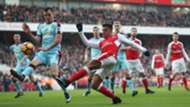 Arsenal fans certainly ran the gauntlet of emotions Sunday at the Emirates Stadium.
While the Gunners ultimately emerged with a 2-1 victory over Burnley, their path to the three points made for plenty of anxiety in North London.
Reduced to 10 men by Granit Xhaka's second-half red card, the Gunners found themselves clinging to a late 1-0 lead thanks to a Shkodran Mustafi strike.
Arsenal lead Burnley 1-0, but now only have ten men for the remaining 20 minutes. Watch #PLonNBC here: https://t.co/9xdc9bn2xF pic.twitter.com/NMKoGSO0O2

— NBC Sports Soccer (@NBCSportsSoccer) January 22, 2017
But Francis Coquelin took down Ashley Barnes in the box, setting up Andre Gray's stoppage-time penalty — along with intense sideline protests from Arsenal manager Arsene Wenger.
Yet the Gunners were not deterred. As Ben Mee lunged a foot out to clear an Alexis Sanchez service, the Burnley defender caught Laurent Koscielny in the face — giving Arsenal a penalty of its own.
#ICYMI Alexis Sanchez bails 10-man Arsenal out with stoppage-time penalty kick #PLonNBC pic.twitter.com/A4zwzZkBVj

— NBC Sports Soccer (@NBCSportsSoccer) January 22, 2017
Sanchez calmly chipped down the middle as Tom Heaton dived to his right, launching Arsenal into second place in the Premier League with a heart-stopping victory.