Powerade
VIDEO: The evolution of ball striking with Javier Hernandez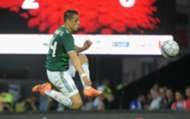 Football has evolved.
But what if the biggest sport on earth had failed to keep up with the latest advancements?
Powerade teamed up to Mexico star Javier Hernandez to see how he coped with using an old leather ball, instead of the official World Cup match ball, complete with thermal bonding and a chip for smartphone interaction.
The West Ham United star had no trouble scoring with the ball set to be used in Russia, but wasn't so prolific when asked to beat the keeper with a leather ball from the 1950s.
After a number of infuriating attempts, Hernandez, sporting a Mexico kit from the 1950's, eventually found the back of the net - though he will be happy to see the back of leather as he aims to fire his country to glory in Russia.
Watch the video above to see how Powerade can help players deal with the demands of modern football.