Powerade
VIDEO: His father's son - Mexico star Javier Hernandez on turning pro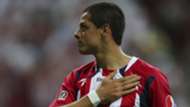 Most young footballers find it extremely difficult to establish themselves as a professional, and their task can be made even more daunting if they have to follow in the footsteps of a footballing father.
Some tend to struggle under the weight of expectation, but Javier Hernandez believes his father's footballing career has been nothing but beneficial to his own.
A constant source of advice, Javier Sr. was part of the Mexico squad that reached the quarter-finals of the 1990 World Cup and had a huge role to play in his son's success.
"My father's career had a positive impact, having him at home really helped and that's not something that everybody can say," Hernandez said.
"Having a master in football as a professional allowed me to learn the good and bad things, the pros and cons of this career and when you don't have this guidance you will have to learn it along the way.
"But I had this advantage because he gave me lots of advice and opinions about what to do and what not to do. That was a huge help to my football career."
Hernandez has played for European powerhouses such as Real Madrid and Manchester United during his career, helping the latter to two Premier League titles in 2010-11 and 2012-13.
But the glory and fame the Mexico star has enjoyed since arriving in Europe has not made him forget the goal that set him on the path to stardom.
"My debut goal [for Chivas] against Necaxa was one of the most critical moments of my career," he said. 
"I do not know how much time passed when I got the ball from Alberto "El Vendao" Medina. I beat a player, the goalkeeper came out, and I touched it to the side and scored.  
"I think it was the dream debut that any professional footballer would like to have, and I thank God I could have it."