David Beckham
Victoria & David Beckham - how they met, net worth & names of children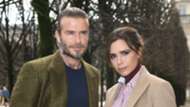 David and Victoria Beckham are one of the world's most famous couples having married in 1999 when both were at the peaks of their early careers.
Since moving on from football and music, the pair have become extremely successful business people, with Victoria building a fashion empire and David making money from the Beckham brand.
Goal looks at their respective careers, their net worth individually and together, how they met and who their children are.
---
How did they meet?
---
David Beckham pursued Victoria Adams after meeting the Spice Girls singer at a charity football game in London in 1997. However, the then-Manchester United star had spotted her earlier when a Spice Girls video was on TV, with Beckham telling Gary Neville that Victoria was his future wife: "I turned around to Gary and said, 'That one there, that's the girl I'm going to marry'."
Despite not asking her out after the game, the pair met again a fortnight later, with Beckham finally plucking up the courage to ask her for her phone number. They arranged a date for the next evening, with David driving all the way from Manchester to London.
Victoria admits that she was not even sure who David was when she met him: "I didn't really know who he was. I was never into football," she told W Magazine. "He was always with his mom, dad and sister while a lot of the footballers were at the bar getting drunk. I could sense right from the start that David was a gentleman, and very family-oriented, which is important because I'm the same."
When news of their romance hit the media, British tabloids named them "Posh and Becks" with their home later dubbed "Beckingham Palace". They married on Independence Day, 1999 at Luttrellstown Castle on the outskirts of Dublin, Ireland, where Gary Neville was Beckham's best man.
---
David Beckham's net worth
---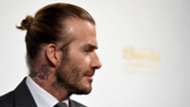 David Beckham hung up his boots in 2013 after calling time on a playing career spent at Manchester United, Real Madrid, LA Galaxy, AC Milan and PSG. He played 115 times for England and won the Champions League as well as the domestic league title in four different countries.
According to the Richest, Beckham's net worth is $450 million (£325m), with earnings in 2017 of $65m (£47m). During his playing career, Beckham was listed at number eight on Forbes' list of the World's Highest Paid Athletes.
Forbes also indicate that he makes $42m (£37m) in endorsements, with the former footballer promoting clothing retailer H&M, Breitling watches and Haig Club whiskey. He owns a number of companies including Seven Global LLP and DB Ventures.
In addition, he is also on the ownership board of Beckham Miami United, who are responsible for bringing Major League Soccer back to Miami, with the franchise hoping to become an MLS expansion team by 2020.
---
Victoria Beckham's net worth
---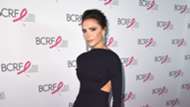 Victoria Beckham first came to prominence as a member of UK girl group the Spice Girls. Formed in 1994, they were one of the biggest pop acts of the 1990s, selling 85 million records worldwide. After their split in 2000, "Posh Spice" released a self-titled solo album, and had three top 10 singles in the UK on her own as well as a number two as a guest artist on True Steppers' single 'Out of Your Mind'.
Since ending her music career, she has become one of the world's most famous fashion designers. In 2011, "Victoria Beckham" won Designer Brand of the Year at the British Fashion Awards, and she went on to expand her brand with plus-size outfits and childrenswear in 2017.
The Richest estimates Victoria Beckham's net worth at $450m (£325m), which is the same total as they have assigned to her husband. Between them, David and Victoria Beckham have a combined net worth of almost $1 billion.
Harper's Bazaar reported that her fashion label was valued at $140m (£100m) in November 2017, with former Goldman Sachs banker David Belhassen investing $42m (£30m) with the intention of expanding the company's eCommerce presence.
---
David & Victoria Beckham's children
---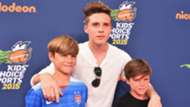 David and Victoria Beckham's first child was born four months before their wedding in 1999, Brooklyn Joseph Beckham, who reportedly was named after the place where he was conceived. However, Victoria denied this in her autobiography Learning to Fly, writing "It was when we were in Marbella that we came up with the name Brooklyn. We already knew he was a boy and so I knew he could end up a footballer, so it had to be a name that was a bit blokey. I had always liked the name Brooke and then we suddenly thought about Brooklyn."
Their second child, Romeo James Beckham was born in London in 2002, and then Cruz David Beckham was born in Madrid in 2005 when David was on the books of Real Madrid. They completed their family in 2011 with daughter Harper Seven Beckham.
Brooklyn has worked as a model and photographer, and also made headlines for dating actress Chloe-Grace Moretz. The younger Beckham children are all still at school, but Romeo has modelled for Burberry, while Cruz followed his mother's footsteps by releasing a pop single. Six-year-old Harper is usually kept out of the public spotlight.