Vancouver Whitecaps
Vancouver Whitecaps fire manager Carl Robinson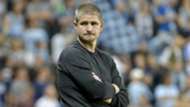 The Vancouver Whitecaps have fired head coach Carl Robinson, the club announced on Tuesday. 
The club's academy technical director Craig Dalrymple will take charge as interim manager for the remainder of the season.
Robinson will depart the Canadian side after nearly five full seasons in charge, having taking over prior to the 2014 MLS season. 
The move comes with just five games remaining in the regular season and Vancouver four points out of the final playoff spot in the Western Conference, sporting a record of 11-11-7.
"We have a lot of respect and appreciation for Carl and his team, and are thankful for the contributions they have made to this club," Whitecaps president Bob Lenarduzzi said in a club statement.
"A lot of thought and consideration has gone into this decision, which was made with the best interests of the club moving forward.
"With five games left, we remain focused on our opportunity to make the playoffs. As we look to 2019 and beyond, we are committed to being a championship contender and a global search for a coach to lead this vision will start today." 
During his time in charge Robinson recorded an MLS regular season record of 64-59-42, and a 78-71-50 mark across all competitions.
Robinson led Vancouver to the playoffs in 2014, 2015 and 2017.