United States
USWNT throttles Australia and Belgium, but vulnerabilities remain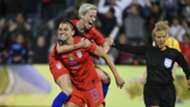 The U.S. women's national team looks like a favorite to repeat as World Cup champion, but there are still reasons for concern as Jill Ellis prepares to name her roster for this summer's showpiece in France.
The USWNT defeated Australia 5-3 in Denver on Thursday before demolishing Belgium 6-0 in Los Angeles on Sunday night, completing the team's seven 2019 friendlies before May's three-match send-off series.
Offensively, Ellis couldn't have asked for much more from her team, but the USWNT continues to show plenty of defensive vulnerability. With 10 goals conceded already in 2019, the U.S. has matched the number of goals it gave up in all of 2018, having played 13 fewer games this year than last.
That, combined with a continued shuffling of players by Ellis, contributes to an unsettling feeling around the defending World Cup champions.
Here are four takeaways from the USWNT's friendly wins over Australia and Belgium.
---
The offense is humming
---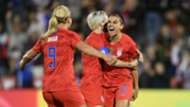 This isn't a particularly cutting observation after witnessing 11 goals in two games, but the USWNT's offense is firing on all cylinders right now.
The team's dynamic front three of Alex Morgan, Tobin Heath and Megan Rapinoe have been carrying much of the load for the USWNT this year, and after Rapinoe scored her team's third against Australia, that trio had accounted for eight of the USA's 10 goals in 2019.
But other players would subsequently step up, with Mallory Pugh scoring a pair against the Matildas before the U.S. got goals from Carli Lloyd, Sam Mewis, Lindsey Horan and Jessica McDonald against Belgium (Morgan would add a goal of her own too).
The U.S. hasn't been shut out since July 2017. That trend bodes well for a team that has struggled to keep goals out in 2019.
---
Lloyd makes a statement
---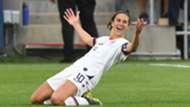 Before Sunday night's game against Belgium, Carli Lloyd had totaled less than one half of game time in five substitute appearances in 2019. With Jessica McDonald's emergence in recent months, Lloyd's role on the team has been a major question mark.
But Lloyd made her case emphatically against Belgium. Handed a rare start, the 36-year-old scored two early goals and assisted Morgan on a beautiful defense-splitting backheel in the second half. The 2015 World Cup hero looked motivated throughout, dicing through Belgium's defense and spraying passes around. 
With the obvious caveat that Belgium was desperately poor on Sunday, Lloyd made her case that she deserves to be the team's top backup at striker behind Morgan.
"I've said she's a game-changer, whether she's on the pitch or coming onto the pitch," Ellis said of Lloyd in her post-game press conference on Sunday.
"That's her role for us. I thought tonight, she was sharp. Fantastic. Played her role perfectly, getting on the end of things and getting results."
---
Ellis continues to tinker
---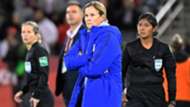 The U.S. fielded what most assume is its first-choice lineup against Australia, with the only exception being Emily Sonnett's start at right back in place of the injured Kelley O'Hara.
But against Belgium, Ellis went back to the tinkerer role she played at the SheBelieves Cup in February and March.
Just like in the SheBelieves Cup, Julie Ertz briefly shifted back from her usual defensive midfield role to center back against Belgium. Meanwhile, regular left back Crystal Dunn started in the midfield and Lloyd moved back to her former role as a playmaking No. 10 after starting at forward. Horan started the match as the deepest of the midfield trio, with the normal No. 8 dropping back and Mewis paying further forward in Horan's usual spot.
The next time the U.S. plays will be May 12 against South Africa and at that point, the team's World Cup roster will be set. Will that signal the end of Ellis' tinkering? Perhaps not.
Ellis has made it clear that she wants to prepare her team for any game state that may arrive during the World Cup and that means shifting players around the field, especially in low-risk games like the blowout against Belgium. With relatively weak opponents South Africa, New Zealand and Mexico on the horizon, the lineup shifts may continue.
Whether that makes the U.S. more prepared for anything or it unsettles a side looking for stability is an open question.
---
Outside back remains a question mark
---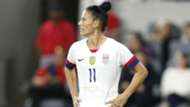 Who are the USWNT's top outside back options? That question seemed settled heading into the April friendlies but once again, the team's starters at right back and left back are up in the air.
Kelley O'Hara is the presumed starter at right back but she missed the games against Australia and Belgium due to complications stemming from an ankle surgery back in the fall. Ellis insisted she wasn't worried about O'Hara possibly missing the World Cup but, with only two months to go, the 30-year-old's health has to be a concern.
Ali Krieger was given a surprise recall to the USWNT after two years away, and the veteran's presence suggested that Ellis is still exploring her options in case O'Hara isn't able to overcome her injury issues.
At left back, Dunn is the presumed starter but Ellis continues to give Tierna Davidson plenty of looks at the position. Davidson is a more natural defender than Dunn and is left-footed. The youngest member of the team will likely be called upon to play left back at some point during the World Cup. Will it only be in late-game situations, or will Ellis decide she can get more out of her team with Dunn in midfield and Davidson at left back on a more permanent basis?