Arabian Gulf League
UAE Arabian Gulf League: Matchweek 18 Preview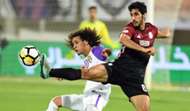 The 18th matchweek of the UAE Arabian Gulf League will be one filled with answers as the top four sides – Al Ain, Al Wahda, Al Wasl and Al Nasr – all face off in their respective derbies.
The Abu Dhabi Derby will see Al Ain (38 points) host Al Wahda (37 points) on the 1st of March at 20:15 UAE time, with the title challengers looking for a comfortable lead at the top of the table should they win.
This match is highly anticipated with the league title going head to head until the last matchweek of the season at this rate, an unprecedented happening in the professional era.
Al Wasl – who sit five points behind 2nd placed Al Wahda – look to preserve their spot in 3rd place as they sit just three points ahead of their Dubai rivals Al Nasr on 29 points in 4th place. The game will take place at Zabeel Stadium on the 28th of February at 20:15 UAE time.
Although the stakes in this match aren't as high, the sides have come off a recent tense derby in which Al Wasl won 3-2 on aggregate. The winning goal for Al Wasl in the second leg was controversial and led to the ban of Al Nasr fans from matches after their anger was highlighted by their actions on the pitch.
The rest of the matchweek sees Al Jazira (5th place, 25 points) travel to Dubai to face Shabab Al Ahli (7th place, 21 points). Sharjah, after their win against Al Ain last week which put them in 6th place with 22 points, face relegation threatened Emirates in 11th place with 12 points.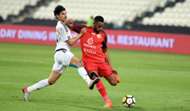 Also in the relegation battle are Hatta (10th place, 13 points) and Dibba (9th place, 15 points), who face off at the Hamdan bin Rashid Stadium in Hatta. Last placed Al Dhafra with 12 points meet Ajman in 8th with 20 points in a bid to leapfrog the other sides and escape the relegation zone.