U17 World Cup
U17 World Cup: Steve Cooper 'Really disappointed to see Sancho leave'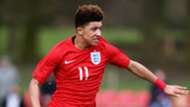 England U-17 coach Steve Cooper confirmed that Borussia Dortmund player Jadon Sancho will not be available for the rest of the tournament. The manager stated that he was disappointed that a player of his calibre would not be available but stressed as to how it's a team game and how he expects his other players to fill in the void left by Sancho.
"Jadon's gone home. Dortmund has requested that he head back to Germany. People enjoyed seeing him play. He very much enjoyed his time in India and relished the chance to play in a world cup. I'm really disappointed to see Sancho go." 
"I've said before it is not about one player, it's about the squad. Every player we have is worthy to start for England in the World Cup. I am really excited about playing a knockout game against Japan tomorrow. " he said. 
When asked about the opposition, Cooper said that he's impressed with their style of play and that he also expects Japan to change things up once again. 
"They changed the team in the previous game. They will make some changes tomorrow, I expect to see some fresh legs out there. I like the way Japan play the game. They are A quality team with great style, very well organised with a plan going forward." 
"It will be naive of us to call us favourites. They are a very tough opponent but we believe in ourselves. We can be better than the opposition. Hopefully, the boys will deliver tomorrow." 
 The English coach was also asked about penalties, a part of the game that England have traditionally struggled with, the coach responded by stating as to how it is a part of the game and how his young side will be ready if it comes down to penalties in the end
"Penalty shootouts are a part of football, whether you enjoy it or not you can't get away from them. We've tried to change the mindset back in England regarding penalty shootouts. We will be ready and confident if there are penalties tomorrow." 
 He also dismissed the thought of a fixed first XI and said he hopes to find the right balance going forward. 
"There is no first team for us. We will put in a team who suitable to the situation. No one knows the team yet for tomorrow. We hope to put forward the right team ahead to find the right balance needed." 
The Young Lions captain Joel Latibeaudiere was also present and talked about how the English side plan on tackling the Japanese squad as a team instead of focusing on one certain player. 
The skipper also said he wears the English armband with pride every time he takes to the pitch 
"Every time I step out on the pitch, it's something that I take pride in." 
The Manchester City defender even talked about his World Cup experience in India. "The experience of coming to India is great. Seeing a different culture and playing in front of big crowds it's been a great experience," he said