U17 World Cup
U17 World Cup: Brazil's Marcos Antonio focused on difficult Germany encounter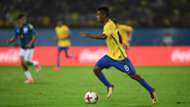 Judging by what we have seen in the FIFA U17 World Cup currently underway in India, Brazilian Serie A side Atletico Paranaense have a proper gem in their hands in the form of Marcos Antonio. 
The diminutive midfielder has been one of the creative forces in Brazil's midfield alongside Alan and has been enjoying a superb tournament so far. 
On Wednesday, he once again shone through in Brazil's Round of 16 clash against Honduras in Kochi as he drove the midfield and scored the second goal in a 3-0 win for Carlos Amadeu's boys. 
Speaking to Goal after the game, he credited his coach for allowing them to play with freedom which saw them unleash some spectacular football. "During the match, we all have the freedom to create," he said. "Yes, we have responsibilities but we have some freedom. 
"This is good because we have creative players in the midfield like Alan, Bobsin and this helps us do well." 

He went on to state that scoring early on against Honduras was very important. "We knew that it wouldn't be an easy game. We scored early on and we started really well. "We scored the second (before half-time) and the third goal soon and we knew we would be safe," he assessed. 
The win set up a heavyweight quarter-final clash against arch-rivals Germany but Marcos Antonio is unperturbed, promising to remain focused. 
"I'm relaxed (about playing Germany). It would be another difficult match like we've had throughout the tournament. 
"But we will be more focused and more concentrated and we hope we can have a very good match against the Germans."
Brazil, who have played three of their four games so far in Kochi, have been enjoying tremendous support in the coastal city and Marcos Antonio was quick to express his gratitude. 
"In the name of all players, I want to say thank you to the fans in Kochi. When they support you like this, you are able to play really well. So, thank you Kochi once again."