A-League
Troisi: Sydney's defence isn't impenetrable
Goal Australia Chief Editor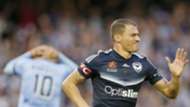 Sydney FC's defence has set all kinds of records this season but Melbourne Victory attacking midfielder James Troisi insists the Sky Blues are "vulnerable" ahead of the A-League grand final.
With Danny Vukovic shining between the posts and a consistently solid back four in front of him, Sydney conceded just 12 goals in the 27-round regular season, while their clean sheet against Perth Glory in the semi-finals was an unprecedented 17th.
In three previous meetings this term, Sydney have beaten Victory 2-1, 2-1 and 1-0 but Troisi insists his team showed enough in those games to indicate they will threaten the premiers at Allianz Stadium on Sunday.
Victory unfazed by Allianz Stadium pitch
"I don't think it's impenetrable," Troisi said on Wednesday, when asked how Victory can break down Sydney's defence.
"If you look at all our games [against Sydney], we had quite a lot of opportunities. Especially the last game we played them, we just couldn't take those opportunities.
"So they are vulnerable and obviously we want to be switched on defensively, and I think that was one of the most impressive things about the Brisbane game. Defensively we were fantastic and they didn't really cause use much trouble.
"With our attacking line and with the support of our defence and our midfield, we're definitely going to create chances. So it's going to be a good game."
Ibini 'touch-and-go' for A-League grand final
Sydney have faced an average of 8.54 shots per game this season, with 3.1 on target.
In Victory's most recent loss to Sydney in March, Troisi and Co. managed just six shots and only two were on target.
But in the other two defeats in January and November, Victory opened the scoring and produced an above-average number of shots against the Sky Blues, although they only surpassed the on-target average in the Big Blue on Australia Day at Etihad Stadium.
Troisi scored the opener in January but goals to Filip Holosko and Bernie Ibini saw Sydney triumph.
COMMENT: Sydney shouldn't fear Victory
Victory have the best shot conversion in the competition in 2016-17 with 18.9 per cent of their shots ending in goals, while Sydney (17.4%) are third in that statistic.
Sydney are generally more accurate than Kevin Muscat's men, however, with the Sky Blues testing the opposition goalkeeper 49.1 per cent of the time - behind only Wellington Phoenix (51%).
Victory (46%) are seventh in the A-League for shot accuracy.