Opinion
Trading places: Iwobi to City, Iheanacho to Arsenal would work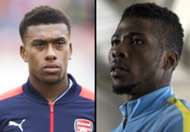 ---
COMMENT    By Solace Chukwu    

Follow on Twitter
---
In the time-worn tradition of tantalizing what-ifs, the prospect of Alex Iwobi and Kelechi Iheanacho swapping clubs was born of a bit of kidding around. Yet, the more you think about it, the more it makes sense. As a matter of fact, it would not be a huge stretch to state it would be perhaps the best move for both players.
The rise of Iwobi at Arsenal is well-documented.
He flowered in the carefree expressionism that has come to define and frequently undermine the Gunners last season, but has found the going a little less rosy this term.
The prospect of dropping out of England's Champions League places for the first time in Arsene Wenger's reign is a very real one, and the volatile, toxic environment swirling around the Emirates these days have seen even established stalwarts like Mesut Ozil and Petr Cech struggle to perform at expected levels.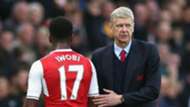 Iheanacho, feted as the Crown Prince of the Etihad, and the sole shining light of a damp squib of a season last time out, has seen his relevance at Manchester City nosedive alarmingly. The appointment of Pep Guardiola was supposed to be the catalyst for the next phase of his development. It has instead precipitated a great freeze, as the former Barcelona manager has increasingly given him the cold shoulder.
The arrival of Brazil international Gabriel Jesus has further complicated an already intractable situation.
Iheanacho stats | 2016-17 season
And yet, in the case of both players, we are clearly dealing with highly talented individuals. Iheanacho's shot conversion numbers remain freakishly good, while Iwobi has lost none of his twinkle-toed precocity. It is instead the details of their station that have altered amidst the chaos of the current Premier League season.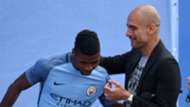 It is, as Iwobi himself admitted, virtually impossible, but you could envision the Arsenal man as one of Guardiola's "free 8s", playing in the same fashion and role as the duo of David Silva and Kevin De Bruyne have this season. His technical security, allied to his calm decision-making in tight spaces make him a perfect fit for Guardiola's City project, and a more central role redresses his lack of defensive awareness in wide areas where he is expected to track an advancing full-back.
Iwobi stats | 2016-17 season
For their part, Arsenal have often struggled to put away chances in the opposition box, and lack a real clinical presence upfront.
Alexis Sanchez does his best work buzzing around, while the hulking Olivier Giroud does not quite offer the menace required to be a persistent threat to opposing defences.
Iheanacho, the model of understated efficiency, is a striker in the mould of Dutch striker Robin van Persie, who left London for Manchester in 2012, the one who the North London club never quite replaced.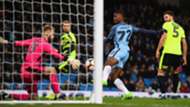 Just as important as the impact of their specific qualities is the environment into which they would be transplanted.
More than anything else, it is the increasing sense of anarchy that has proved problematic to Iwobi's continued progress. So long as Arsenal stayed on plan and on message, he flourished. As the ground beneath his spindly feet has been rocked, so have his bearings.
There is arguably no manager in the Premier League with a more set idea on how the game should be played than Guardiola (even to the point of stubbornness), and it is this stability, manifested on the pitch, that the 20-year-old needs to internalize to continue on his path.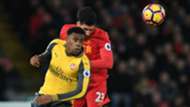 Iheanacho simply needs to be believed in, and within Arsenal's crèche setting, he would undoubtedly get the game time and arm-around-the-shoulder tutelage that he needs to mature.
Much like Van Persie, his arc has taken him from attacking midfielder to pure No. 9, and if there is one man who can send him on his way to becoming a technical striking assassin, it is the man who did it before.
Neither is likely to feature meaningfully when Arsenal host Manchester City this weekend, and this just serves to illustrate how their respective stocks have fallen. Swap deals are often just a bit of fantasy booking in the end, but this may be the rare case in which the grass is indeed greener on the other side.