Mohamed Salah
Totti credits Klopp with turning Salah into a Liverpool superstar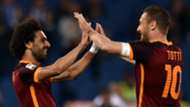 Mohamed Salah's stunning form at Liverpool has surprised Roma legend Francesco Totti, with Jurgen Klopp credited with bringing the best out of a 41-goal talent.
As the Egypt international headed for the exits in the Italian capital last summer, a £36.9 million fee seemed fair for a winger who was considered to be more of a creator than a finisher.
Salah has, however, exceeded all expectations at Anfield, with his price tag now looking like quite the bargain as he chases down Golden Boot and Golden Shoe prizes to go with a PFA Player of the Year award.
Totti concedes that he did not see such form coming, but believes Liverpool manager Klopp has proved his coaching credentials again by unlocking the full potential in a man now considered to stand alongside the very best in the business.
The Roma icon told Liverpool's official website ahead of a Champions League semi-final clash between two European heavyweights: "This season I've seen a number of games of Liverpool, especially because Mo Salah is now playing there, I've been following it consistently.
"Especially after the draw, over the past few days I've been watching their Champions League games and I really think it's going to be a tough game for both teams.
"To some extent, it surprises me that [Salah] has been doing so well in his first season at Liverpool.
"But, on the other hand, considering the quality of the squad, the coach they have - Klopp, to me, is one of the best coaches in the world - it didn't surprise me. 
"They put him in the condition to express himself at his best."
Salah is now set to pose the most significant threat to his former club in an eagerly-anticipated continental tussle, with Totti expecting a tough test for Roma.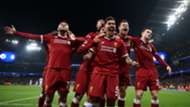 A World Cup winner who slipped into retirement last summer after 25 years with his home-town club added: "When I hear the name Liverpool, [I think] respect, a big club, a big team, big fans, and a model to follow.
"Despite the negative result, I have nice memories of that game [at Anfield].
"The atmosphere, the feeling, the passion of the fans - it was very impressive.
"Obviously, if I think back to that European Cup final in 1984, it's a bad memory, so we would have probably have avoided such a draw.
"But we needed to pick one of the best three teams in Europe that were left, and now we are playing Liverpool."
Liverpool will welcome Roma to Anfield for the first leg of their semi-final on Tuesday, with reigning European champions Real Madrid taking on Bayern Munich in the other last four tie.