Bayern München
WATCH: Colours, capitals and champions - Thiago and Muller put their Asian knowledge on the line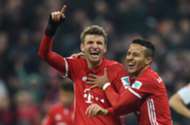 Thiago Alcantara and Thomas Muller both know their way around Europe.  
As Champions League winners, the Bayern Munich pair are familiar as one can be with their home continent. 
But how well do they know another - the world's biggest, Asia?
With Bayern contesting the International Champions Cup in China and Singapore in July, Goal put the duo to the test on all things Asia. 
From the colours of the Singapore flag to the current AFC Asian Cup champions, Thiago and Muller went head-to-head across seven questions in our Asia quiz. 
Watch the video above to see who came out triumphant!