A-League
'The club is starving for success'- Brendon Santalab ready to deliver for Perth Glory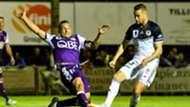 Not since the National Soccer League have Perth Glory lifted silverware and that's something Brendon Santalab is desperate to change.
Reunited with former Western Sydney Wanderers coach Tony Popovic at the Glory, the 36-year-old striker is starring in pre-season after netting a hat-trick against Inglewood United last week.
While the chance to work with Popovic again did attract Santalab to Perth, his desire to deliver the club some much-needed silverware also played its part.
"(Working with Popovic) was a big reason and I think another reason is the club is starving for success," Santalab told Goal.
"It's been awhile now since the club tasted silverware and that's also huge motivation for me. I've always wanted a challenge and this is a fantastic challenge under Popa, who seems to be successful everywhere he goes. It's great to have him at the club."
No stranger to Popovic's intense pre-season regimes, Santalab is shining as his new teammates sweat under the increased workload.
Though the new coach's approach to training has taken some by surprise, the new ethos appears to be paying off with Santalab impressed with how Glory players have reacted.
"For myself, it's nothing new. I know what Popa's all about which is probably a reason why he brought me to the club because he's seen me do it all before and we've had success," he said.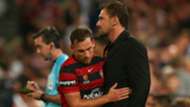 "For the group it is a big change to what they had before and it's a transition phase for the club and us players.
"With so many changes in such a short time now it's about adapting to Popa's philosophy and work intensity levels.
"From day one since I joined I couldn't believe the level the players were at here and fitness levels compared to teams I've previously been in. It's a real positive feeling within the group."
Having often lined up against Perth for Western Sydney, Santalab admits it was never an experience he enjoyed and he's eager to build an effective strike force with his new teammates. 
"I never enjoyed playing against the Glory because the likes of (Diego) Castro and (Andy) Keogh always worried us," Santalab said.
"To be playing with them now is really exciting and so far it's been very enjoyable. Everything's building nicely and there's a great spirit within the group.
"There's some great players at the club and I'm excited to work with Andy Keogh up front."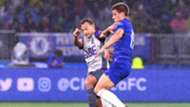 Having been used largely as a substitute last season with the Wanderers, Santalab admits he's content playing whatever role that can help lead the club to some success. 
"I've always been a team player and whatever Popa wants from me and whenever he decides to put me in I'm happy," he said. 
"The main thing for me is being part of a successful team and lifting a trophy at the end of the season. Whether I'm starting or coming off the bench, whatever role I play is an important one for the team." 
While in the twilight of his career, Santalab hasn't shown any signs of slowing down and revealed retirement hasn't even crossed his mind ahead of his ambitious first season with Perth.
"I haven't even thought about (retiring) to be honest," he said.
"Really enjoying pre-season and working under Popa again.
"I've always got that flame in me, that spark and the day that goes down is when I'll consider stopping. At this moment now I'm enjoying it and I have no thoughts to retire. I feel I can play for a while longer..."