A-League
The Central Coast Mariners have earned their Usain Bolt shot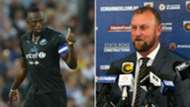 Call it a PR gimmick. Call it a waste of time. Call it whatever you want. The Central Coast Mariners are willing to gamble on Usain Bolt and no-one should begrudge them for rolling the dice.
The Gosford-based club will host the eight-time Olympic gold medalist for an indefinite training period from mid-August as they look to give Bolt every chance of earning an A-League contract with the Mariners.
While the verdict remains out on his footballing ability and whether he will in fact take up a spot on Mike Mulvey's roster, Bolt will bring with him some serious star power during his stint Down Under.
For a club that's struggled on and ultimately off the pitch in recent years, the Mariners are wisely looking to utilise the Jamaican's shine before the season kicks off.
After even being cast in the shadow of rivals Newcastle Jets last season, Central Coast have demanded centre stage over the past weeks as a result of Bolt. 
For a club used to the dark, they are finally getting some attention and they'll be hoping it can be harnessed the right way to the benefit of the entire club and team. 
"You know we are a small club, you know we need to grow and if this is an opportunity for the Central Coast Mariners to grow in the long-term, then it's an opportunity that I'm sure no-one can deny us," Mariners CEO Shaun Mielekamp said.
Though the skepticism of the supposed 'stunt' has come thick and fast, Central Coast have in reality handled the whole situation with real professionalism.
There have been no promises of a contract, no young player cast aside as a result and no rash decision made by the club nor Bolt himself.
A process has been put in place and in handing Bolt an indefinite training period, the club have shown they're willing to invest in his development and not simply use him as a way to make a few headlines.
Despite some suggestions to the contrary, head coach Mulvey will be given the final decision on whether Bolt has what it takes to contribute to his side. 
Just a day before Bolt was locked in for a training period, Central Coast crucially also gave two young players a chance by handing National Premier League duo Jordan Murray and Josh Macdonald one-year contracts. 
While Bolt may be a proverbial long ball for the Mariners, they aren't a club committed to just one high-profile play and have a history of developing talent that is often overlooked.
The current Socceroos squad is testament to that fact with Mat Ryan, Mile Jedinak and Trent Sainsbury all coming through at the Central Coast.
With a history of giving players a chance, no-one can blame the Mariners for giving Bolt a shot and the much-needed boost his arrival will bring with it.
Whether or not he sticks around and takes to the pitch remains to be seen, but if he has what it takes then this is one investment the Mariners are more than entitled to cash in on.