AFF Championship
TCH promises improved Malaysia performance against Laos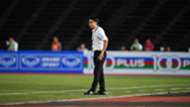 Malaysia were made to toiled for long periods of the match against Cambodia on Thursday but eventually managed to secure all three points thanks to Norshahrul Idlan Talaha's header in the 30th minute of the first half.
Tan Cheng Hoe's boys took a long time to get themselves acquainted with the artificial pitch at the Olympic Stadium as Cambodia threatened to run away with the game during the opening 15-20 minutes of the first half.
However, despite creating clear-cut goalscoring chances, the Cambodian players did not have the composure in front of goal to beat an alert Khairul Fahmi Che Mat. Once Malaysia started to get a foothold in the game, the Cambodian attacks were easily blunted out.
"Overall performance of the players, we can still improve but it was important to get the three points. We were in a bit of disarray at the start but we managed to regain our composure. We missed some chances at the end and that is something we need to improve."
"The first match in any competition will always to tough to get any momentum. The pitch wasn't helpful but because of the commitment of the players were high, we managed to get the win," said Cheng Hoe in the post-match press conference.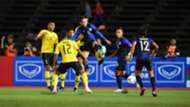 One of the tactical moves that Cheng Hoe employed during the match was the switching of flanks to both of the wide attackers in Mohamadou Sumareh and Safawi Rasid. Both seemed to prefer the right hand side better than the left and it showed when both players did better when they were on the right.
However, Cheng Hoe did not want close the door on using both players in those positions again in the future and believes that they will come to be effective in those roles.
"Safawi and Sumareh can switch between right to left and vice versa. Safawi had played on the left before in his career. But of course it is important for the them to keep improving their understanding with each other as we go on," he added.
Follow Goal Malaysia on Instagram