Africa Cup of Nations
Tanko will 'give out' info on Cameroon to Ghana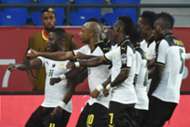 Ghana scout at the Africa Cup of Nations, Ibrahim Tanko, has pledged to help the Black Stars beat Cameroon at the tournament on Thursday.
Avram Grant's outfit face the Indomitable Lions in the semi-final in Franceville, after dispatching DR Congo (2-1) in the last eight on Sunday.
Tanko was assistant coach of Cameroon from 2013 to October 2015, his tenure only coming to an end following the dismissal of head coach Volker Finke.
"I worked as the assistant coach for Cameroon and so I know much about the team.
"I will give out the little information and knowledge I have about the team.
"I am now the scout for the Black Stars, and so much will be expected this time around, especially when we are coming up against a team I know very well."
Ghana, four-time Afcon winners, want to annex the trophy for the fifth time, after emerging champions in 1963, 1965, 1978 and 1982.
Cameroon, likewise, have won the championship on four occasions.
Their last meeting with Ghana occurred at the 2008 Afcon semi-finals, ending in a 1-0 win in favour of the central Africans.