Premier League
Swansea had to defend after Ayew's sending off, says Carvalhal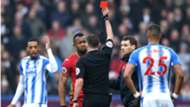 Swansea City coach Carlos Carvalhal says the early sending off of Ghana striker Jordan Ayew in their goalless draw against Huddersfield on Saturday forced him to alter his game plan.
The 26-year-old was shown a straight red card after eleven minutes of play following an awful challenge on Huddersfield captain Jonathan Hogg.
"Huddersfield played opera – they moved the ball from side to side and we had to listen to their music for a long time," Carvalhal told the club's website.
"We got a point because my players showed big character. It is not easy to play against Huddersfield. We prepared all week with two attackers, Jordan Ayew and Andre Ayew, to give us a bridge to attack.
"But when we lost Jordan so early, we lost that bridge and I knew then it would be very difficult to attack. We had to defend, but that didn't just mean putting everybody in our box. We had to defend with quality and we did that.
"Huddersfield fought a lot to get the win but they didn't get it because we fought and showed the character to get a point," he added.
Carvalhal praised his players and insisted that he was happy with the point they picked as they continue to push away from the drop zone.
"At the end we are really happy. I don't want to have to defend like that in games, but these were the circumstances of the game.
Ayew is expected to miss Swansea's quarterfinal game against Tottenham Hotspur in the FA Cup next weekend as well as the game against Southampton.