Barcelona
Sublime Messi makes mockery of doubters by driving Barca to dominant derby victory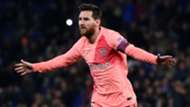 Evidently Lionel Messi, a five-time Ballon d'Or winner, did not take kindly to being ranked the fifth best player in the world on Monday at the 2018 edition of the awards . 
Or perhaps it was comments from Brazilian legend Pele which stung , claiming the Argentine "only shoots with one leg" and "only has one skill". 
Whatever it was, Barca's No 10 was wound up tightly and Espanyol felt the full force of his fury on Saturday night. 
Messi scored two gorgeous free-kicks and created a goal for Ousmane Dembele, with a host of other wonderful moments that lit up Barca's comprehensive 4-0 derby win over Espanyol at Cornella. 
Messi stated his intentions in the 17th minute, arcing a perfectly placed, unstoppable free-kick into the top corner, beyond the despairing dive of Diego Lopez. 
The forward's dribble for Dembele's goal was worth the (high) price of admission alone. 
The Argentine bamboozled one defender with lightning quick feet, ran into trouble, turned and fell, keeping the ball, getting up, and then finding the French winger with a perfect pass that nobody else would have spotted. 
It was a work of art and Dembele made sure it will be immortalised by finishing the chance.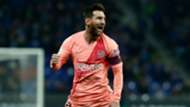 It did not take long for Messi to come up with a new piece of magic, working a sensational first time pass over the defence to Suarez, who hit the post. 
The pass was perfectly weighted and so sweetly struck the Espanyol centre-backs couldn't be blamed for simply watching it. 
Another free-kick followed in the second half, again leaving former Real Madrid goalkeeper Lopez helpless, wrong-footed. It was Messi's 10th goal from a set-piece in 2018 in all competitions, his ninth in La Liga. 
While he might not admit it, there can be little doubt that this week had provided him with extra motivation for the derby. After losing the ball with a rare misplaced pass he charged back 40 yards, deep into his own half, to recover it, a sight you don't often see. 
Diario Sport noted earlier Saturday that Messi was yet to deliver a performance at his usual incredible level in Espanyol's stadium, where he has scored just twice in his career. 
He obliged with this sensational display and his goal was the 19th he has netted against Barca's rivals in total, more than any other player has managed.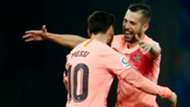 Messi doesn't speak much off the pitch, bar some mumbled answers at promotional events and the odd in-depth interview when back home in Argentina, so it's no surprise he hasn't spoken out about the Ballon d'Or rankings. 
Instead he talked with his feet - well, just that left one as Pele pointed out - condemning Rubi's Espanyol to a heavy derby drubbing. 
And even though Barcelona have qualified for the Champions League last 16 as group winners, it would be no surprise if Messi pulls this kind of performance out of the bag again on Tuesday against Tottenham, making his point on the world stage. 
Messi is mad and whoever has the misfortune of crossing his path will pay the price.