Stuart Baxter
Stuart Baxter: Qualifying for Russia is in Bafana Bafana's hands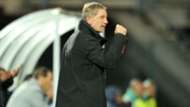 Bafana Bafana coach Stuart Baxter praised his following their 3-1 win over Burkina Faso in a 2018 World Cup qualifier at the FNB Stadium on Saturday.
Baxter feels South Africa should have beaten the Burkinabe by six goals, but he was pleased with the effort put in by his players on the afternoon.  
"It was a magnificent performance. We had a good game plan. The boys did very well, and for me, it was a six-nil game," Baxter said after the game.
Bafana were reduced to 10 men in the second half when Bongani Zungu got a straight red for an off the ball incident, but they held on to claim all the points.
"There was so much quality out there from the players. They really showed their best. I think the character and desire to want to keep going was absolutely top class," Baxter said.
Bafana next face Senegal in back-to-back clashes next month, and they know they have it all to do, although they will have to depend on other results to go their way.
"It's in our hands now. I mean, if we play this well against Senegal, they will have their hands full I promise you. If we play this against Senegal in the last two games, who knows what will Fifa say but I'm delighted with the performance today," Baxter concluded.