Africa Cup of Nations
Striker Kwesi Appiah talks about Partey and why Ghana should win Afcon 2019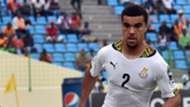 Ghana striker Kwesi Appiah believes their experience and the quality of Atletico Madrid midfielder Thomas Partey puts the Black Stars in a strong position to win the upcoming Africa Cup of Nations in Egypt.
The four-time champions are seeking to end a series of disappointments in recent times, having last won the title in the 1982.
The Black Stars have reached the semi-final of the last six tournaments, going ahead to reach the final in 2010 and 2015.
"The [current] group has been built over a longer period of time. Back in 2015, the manager Avram Grant was brand new so he had to select players over a short period of time without having a long period to bed them all in together," Wimbledon striker Appiah - who earned a recall to the Black Stars for a double-header earlier this month -, told the BBC.
"This time around, the experience as a group is a lot more tight because they've been through training camps, been through qualification, been through friendlies and this manager is building this squad around this tournament to really do our best at this tournament.
"Thomas Partey is world-class. You can see his quality, you can see why he's a wanted man. The guy is a sensational talent. And the team as a whole should be in a much better place.
"Ever since 2015, every international break or tournament that's gone by, all that's been in my mind is we need to get that trophy.
"It's a big, big deal and getting so close on my first attempt makes me realise how important it is to win that trophy. Hopefully this year we can take the trophy home."
At the June 21-July 19 championship in Egypt, Ghana have been drawn against cup holders Cameroon, Benin and Guinea-Bissau in Group F.