African All Stars
Star Sixes was fun apart from the results, says Okocha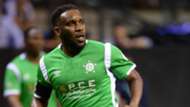 Jay-Jay Okocha has summed up Nigeria's performance at the maiden edition of the Star Sixes tournament as a thrilling experience regardless of the embarrassing results.
The African representatives ended their journey in the maiden Legends' World Cup in the quarter-finals stage with a humiliating 8-1 loss to Spain.
Nigeria's recorded a 3-2 win in their opening group fixture against China before suffering defeats in the hands of Brazil, Italy and Spain.
And the former Bolton Wanderers and Paris Saint Germain midfielder who could not find the back of the net in four games admitted that the tourney was fun in spite of the disappointing defeats, while praising the fans for their support.
"Star sixes was fun apart from the results#we came #But we could not conquer #Thank you for your support#God Bless you all," Okocha wrote on Instagram.