Bundesliga
St Pauli hit out at their own kit manufacturer after Trump praise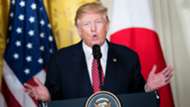 German club St Pauli have issued a statement criticising their own kit manufacturer, Under Armour, after the company's chief executive endorsed new US president Donald Trump.
Kevin Plank, the head of the American sportswear giant, told CNBC on Tuesday that it was a "real asset" for his country to have elected "such a pro-business president".
Messi signs new deal... with Adidas
Trump has come under intense scrutiny, however, for his often inflammatory rhetoric while campaigning for the presidency and the executive order he has unsuccessfully attempted to impose putting a hold on immigration from a number of Muslim-majority countries.
Golden State Warriors basketball star Stephen Curry, who is one of Under Armour's most-visible athletes, later said that he agreed with Plank's description of Trump "if you remove the 'et' [from 'asset']".
And 2. Bundesliga side St Pauli have joined Curry in stating their opposition to the company's position, adding that they will continue to do so as they feel is necessary "irrespective of the good and trustful working relationship" between the two parties.
"FC St. Pauli would like to state its position regarding the comments by Kevin Plank, CEO of kit supplier Under Armour, which have been a subject of discussion in and around the club and the media in recent days," the team's statement reads.
"The club had already expressed a critical view of a visit by Kevin Plank to US president Donald Trump in a letter to the Managing Director Europe at Under Armour around two weeks ago.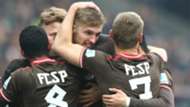 "Club officials have now noted, with some irritation, the comments made by Plank on Donald Trump's strategic direction ['To have such a pro-business president is something that is a real asset for the country']."
St Pauli chairman Oke Gottlich then adds: "FC St. Pauli can only agree with Steph Curry, the NBA's sharpest three-point shooter and equity holder of our kit supplier, in his assessment of the new US president. There is no more to be said about this person.
"Further, FCSP would wish Under Armour founder Kevin Plank to reconsider his statement, precisely in view of the company's many employees of migrant background, who bring many assets to his company. Because, dear kit supplier, the saying 'Protect Our House' also holds true for FC St. Pauli and its values."
The statement concludes: "Irrespective of the good and trustful working relationship between FC St. Pauli and its kit supplier, the club will continue to take a critical position in future when it appears necessary."
Heitinga: I can't afford private jets anymore
St Pauli are known for their association with left-wing politics and published a set of "fundamental" principles in 2009, one of which emphasises "tolerance and respect in mutual human relations".