Asian Games
Southeast Asian sides can be on par with West Asian teams, says Kim Swee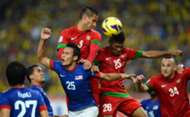 ---
BY        ZULHILMI ZAINAL       Follow on Twitter
---
Although his side could not maintain their perfect record in the Asian Games men's football group stage, Malaysia U-23 head coach Datuk Ong Kim Swee is buoyed by the improvements shown by them and the other Southeast Asian sides in the competition.
Having already secured qualification to the round of 16 as Group E champions through their stunning 2-1 win over South Korea U-23 last Friday, Kim Swee fielded his backup players in their last group match on Monday, against Bahrain U-23. The match ended in a 3-2 win for Bahrain, and the result allowed the West Asians to advance to the round of 16 as the third-best third-place finishers in the group stage.
Fielding questions from the press after the clash, Kim Swee admitted his disappointment at the players he fielded in the match.
"My boys definitely did not play the way that they were supposed to. I made eight changes (in the starting line-up) and a few of them did not play as well as I expected, and that made it difficult for us against Bahrain.
"We have no time to train them more. They have to understand that when they are here; they need to work very hard. It's disappointing to see one or two who doesn't show any commitment in the game. I gave them a chance, but they did not take the chance well.
"There's also injury that I'm worried about; Akhyar [Rashid] struggled towards the end and I need to look at how serious his condition is," said Kim Swee.
When asked about the performances of Southeast Asian sides in the tournament, he responded by stating his belief; that they can be just as strong as the traditionally-more competitive West Asian teams.
Apart from Malaysia, Vietnam and host nation Indonesia too have qualified to the knockout stage as their respective group's winners. And although Myanmar finished bottom of Group F, their group ended in bizarre and somewhat cruel fashion; all four teams ended the group stage with four points, separated only by goal difference. 
"I haven't had the chance to see too many matches involving Southeast Asian teams, but I know that Vietnam are doing very well and they did a very good job in the AFC U-23 Championship earlier this year.
"I'm not sure of Indonesia, I hope they qualify [Indonesia's final group match was held at the same time as Malaysia's match against Bahrain]. It's good that we are reaching to be on par with West Asian sides. That's very important; if we can be better than them, then it will definitely be good for Southeast Asia," stated the former Malaysia international. 
Malaysia's round of 16 match against Japan U-23 will be on Friday, August 24.
Also follow Goal Malaysia 's new Instagram account!