Real Madrid
Solari restores calm as chances of keeping Real Madrid job grow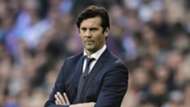 Interim Real Madrid manager Santiago Solari is beginning to show why he may be the man for the job on a permanent basis. 
Goal understands that Solari is bringing a calming effect to the Madrid dressing room after a tumultuous period under Julen Lopetegui, and the interim boss is growing more comfortable in his new role. 
As more time passes and Madrid fail to appoint a new full-time manager, Solari's chances of holding on to the permanent role grow stronger – especially if the Blancos carry on winning.
Following Lopetegui's sacking last week, the Blancos turned their attention toward former Chelsea manager Antonio Conte.
But a deal has failed to materialise with the Italian, and similarly other candidates such as Mauricio Pochettino also look unlikely to take the reigns at the Bernabeu. 
And so Solari's chances of holding on to the job permanently continue to grow, after the Argentine started his time in charge with wins over Melilla and Valladolid. 
Should Madrid emerge victorious over Viktoria Plzen in the Champions League on Wednesday, they will have achieved something they failed to do under Lopetegui: win three straight games.
"We've started off on the right foot. We are happy under Solari," defender Nacho declared in a press conference ahead of the match against Plzen. 
Solari's handling of teenage star Vinicius Jr has been another major point in his favour, with Lopetegui's failure to develop the Brazilian helping contribute to his downfall.
After making just two appearances under Lopetegui, Vinicius has played in both games under Solari and has notched three assists in those two matches. 
"I told him to be bold and to take people on, which is what he knows how to do," Solari said of Vinicius after a game-changing appearance off the bench against Valladolid.
Vinicius is just one of many players feeling more comfortable under Solari, and Goal understands that the dressing room as a whole is feeling more and more at ease under the Argentine's guidance. 
"I am committed to this role, be it for two days or for a week," Solari said in his pre-match press conference before the Plzen match. 
If he continues the way he has started, Solari may be in charge at Madrid for much longer.