International Champions Cup
Don't miss this opportunity to catch Arsenal, Atletico Madrid and Paris Saint-Germain at this year's 2018 International Champions Cup (ICC) in Singapore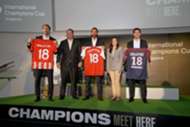 The 2018 international Champions Cup (ICC) returns to Singapore's shores this year and it promises to be a spectacle for the country's footballing enthusiasts. This year's edition will see three European heavyweights compete for the cup. They include Arsenal, UEFA Europa League winners, Atletico Madrid and French champions, Paris Saint-Germain.
New managers
Adding excitement to the event is the chance for fans to see Arsenal and PSG's new managers respectively. Unai Emery emerged as the man to replace former Gunners boss Arsene Wenger and the Spaniard boasts an impressive CV having brought seven trophies in two seasons to Paris Saint-Germain and was recently named Manager of the Year in France. Moreover, he masterminded Sevilla's three successive victories in the UEFA Europa League from 2014-2016, making them the most successful club in the competition with five titles.
On the other hand, Thomas Tuchel took over the reins at PSG after Emery left the post to head to Arsenal. The former Borussia Dortmund tactician has been widely credited for his great job in Germany with a very enterprising and attacking style of play. The matches in Singapore will provide fans with a glimpse of how the French club will function under him. Expectations will be high and one can expect an entertaining match especially when Arsenal takes on PSG as Tuchel looks to outdo his predecessor Emery.
Fixtures
Thursday, July 26, 2018
Atlético de Madrid vs Arsenal
Saturday, July 28, 2018     
Arsenal vs Paris Saint-Germain
Monday, July 30, 2018       
Paris Saint-Germain vs Atlético de Madrid                                                      
Arsenal's first test will be against Atletico Madrid on Thursday 26 July, in a replay of the UEFA Europa League semi-final earlier this month. The Gunners will then take on Paris Saint-Germain on Saturday 28 July, which will see many "reunions" on the National Stadium pitch albeit on opposing camps – new manager Emery with his former team Paris Saint-Germain; and Henrikh Mkhitaryan and Pierre-Emerick Aubameyang with their former manager, Thomas Tuchel.
Closing the tournament is the match between Atletico Madrid and Paris Saint-Germain, two of Europe's most successful clubs this season, on July 30. The Spanish side is riding high after a highly successful season with the latest addition of the UEFA Europa League silverware to their trophy cabinet as well as a second-place finish in the La Liga, ahead of bitter rivals, Real Madrid.
In an interview  about Arsenal's forthcoming visit to Singapore Arsenal's Mkhitaryan said, "I'm excited to play in Singapore this Summer because it's a good opportunity to see which level we are going to be during the pre-season and of course to play against strong opponents. It's going to be very interesting and I'm looking forward to it."
 Additionally, his team-mate, goalkeeper, Petr Cech, also spoke in glowing terms about returning to play in Singapore  .
Tickets
Tickets to the 2018 International Champions Cup start from $28 and are available at  www.sportshub.com.sg , Singapore Indoor Stadium Box Office, The Star Theatre Box Office, Scotts Square Concierge and all SingPost outlets. Members with UnionPay, the Official Payment Brand of 2018 International Champions Cup in Singapore will enjoy a 10% discount across all categories (except Field Seats) throughout the sale period.
Group, family and multi-day packages with perks are also available for fans of the beautiful game. Multi-day packages include benefits such as preferred seating, Fan Zone Special Entry Pass, House of Football Special Entry Pass and even a chance to win a pass to the clubs' official training session at the National Stadium.
To bring fans close to the action, organizers have released exclusive seating by the pitch for this year's tournament. Priced at $388, the Field Seat category – a first for both ICC in Singapore and the National Stadium – consists of 50 seats per match in a strategic location situated on the length of the pitch, right opposite the dugouts.
For more information, please visit  www.internationalchampionscup.sg .