Diego Simeone
Simeone vows to stay at 'virgin' Atletico but warns of Real Madrid & Barca's power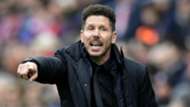 Diego Simeone has stressed he wants to remain at Atletico Madrid next season and help the club grow, but feels Real Madrid and Barcelona have a power that even the world's richest teams cannot compete with.
NxGn: The 50 best Under-19 talents
Simeone guided Atletico to the Liga title in 2013-14, the first time the crown has gone to a team other than one of the Clasico rivals since Valencia won it 10 years prior.
The Argentine has also guided the Rojiblancos to two Champions League finals, but lost to city rivals Real on both occasions.
Simeone's achievements have seen him linked with a move away from the Vicente Calderon lately, with a switch to Inter said to be on the cards, but he insists his dream is to move forward with his current side.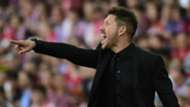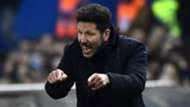 "My dream is to stay at the club and accompany the growth it is in," he told radio station Metro 951. "I still see many good things for the club to keep growing. Atletico is still a virgin. I see many ways for improvement. I see many young players that will give us balance to have a good squad.
"I am still excited about collective efforts, it keeps me alive. My vitamins are the players and if they respond as they did the other day against Sevilla, how am I going to go?"
With Atletico now 10 points behind current leaders Madrid, this season has not been as impressive, though they are still in the Champions League at the quarter-final stage.
And Simeone feels catching up with them is a mountainous task not just for his side, but even for the strongest teams in the world.
"We won a Liga title that will always be remembered here," he added. "With Real Madrid and Barcelona, it is very rare that a team that is not one of those two does not finish between 10 to 15 points behind in third. 
"We won the league at Camp Nou and last year we finished three points behind champions Barca. When I was young I watched Diego Maradona's Serie A-winning Napoli, it's like that fight he had with the best Inter, Juventus and AC Milan.
"We grow as a club. We are close to having a new stadium, which is going to be wonderful and the club will grow. 
"The difference is with the history of Real Madrid and Barca. For them, the Copa del Rey or the Supercopa de Espana must be won, the Champions League too. It is very difficult to compete with them because they have a power beyond the budget. 
Verratti agent hints at PSG departure
"Real Madrid, Barca and Bayern Munich have an incomparable power with anyone, even with those who have a lot of money like PSG or Manchester City."
Atletico play Leicester in the last-eight of the Champions League. Despite the Premier League champions' struggles this term, he expects a tough game.
"It would not be healthy to live with the imagination of reaching the final when we have a rival like Leicester who has eliminated Sevilla that everyone said was the best in Spain at the moment. 
"For the morbid it might be good but it would be dangerous to imagine."