PSL
Shabba now sets sights on Doctor Khumalo's record at Kaizer Chiefs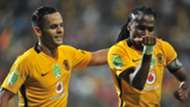 Kaizer Chiefs winger Siphiwe Tshabalala recently netted his 50th goal for the club, and he recalls how he kept going since opening his account against Golden Arrows about a decade ago. 
He has made a habit of scoring agtainst his fomer club, Free State Stars, and he's delighted that he's managed to chip in with important goals from a midfield position. 
"In my 200th game for Chiefs (in 2013), I scored a goal against my former club and we won 2-0. And when I made my 300th appearance [for Chiefs], I scored against them again (last year)," Shabba told The Sowetan. 
Asked if he sees himself breaking Marks Maponyane's record of 85 goals in official compeitions before retirement, Shabba didn't want to put himself under unnecessary pressure, saying he will take each game as it comes. 
This means the 32-year-old still needs to score 35 more goals to match Maponyane's record.  
"Yoh! You know for me it is one game at a time and improving on my game as well," he said.
Having already made 322 appearances for the Soweto giants, the former Bafana Bafana midfielder said it would be massive for him to break Doctor Khumalo's record of 397 appearances for Chiefs. 
"Doc [Khumalo] being my childhood idol and going on to break his record will be massive. It is not impossible and it can be done," he continued.