Transfers
Sebola: Orlando Pirates must allow Okwuosa to return to Chippa United and bring back Chabalala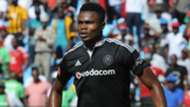 Legendary Orlando Pirates striker Andries Sebola strongly believes that the Soweto giants shouldn't have signed James Okwuosa in the first place.
According to Sebola, Okwuosa is just not good enough to play for the Buccaneers. 
"I don't know why they brought him to Pirates. James Okwuosa is not Pirates material," Sebola told Goal.
The Nigerian defender along with left-back Marc van Heerden arrived at Bucs in a swap deal that saw Justice Chabalala, Donald Mokondelela and Sello Japhta go in the opposite direction.
"Okwuosa and Justice Chabalala are two different players. Okwuosa is not Pirates material. So, I don't know what led them to swap him with Chabalala," Sebola said.
The 26-year-old managed a single appearance since joining the Sea Robbers at the beginning of the year, and Sebola has urged the club to sell him back to Chippa United and bring back Chabalala. 
"Chabalala is Pirates material. He is a fighter. He is good aerially and a hard-tackler. So, Okwuosa needs to go back to Chippa and be swapped with Chabalala," Sebola said.
"Players like Okwuosa are the reason why Pirates are not in the top eight. It's no surprise that he never played after the 6-0 loss to Sundowns because he contributed to that loss. He is not ready to play for a big team like Pirates," Sebola concluded.