A-League
Santalab always focused on the next goal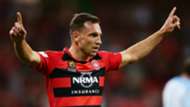 If Brendon Santalab scores for Western Sydney Wanderers against Brisbane Roar in their elimination final he'll be ecstatic – though his celebration will remain typically reserved. 
The sight of players unleashing emotions after hitting the net is a trademark of football – a burst of passion, synergy with the fans, pride in the shirt, albeit fleeting.
But Santalab's energy-efficent celebration is completely the opposite.
Santalab & Barbarouses win club awards
Yet it's something he's proud of and is emblematic of the 'one-percenters' that successful teams like the Wanderers - and players like Santalab - strive for. 
"We work very hard on the pitch," the 34-year-old told the A-League's official website in his quiet and considered manner before winning Western Sydney's player of the year award on Tuesday night.
"If you throw all your emotion, all your energy into a celebration, I don't want to reveal any secrets, but you are letting go of a lot of precious energy.
"And it's funny you have touched on that because it's something I have in my mind as well.
"In the past I've probably been over-excited when I've scored and when a chance arrives I may be a little fatigued from the celebration.
"An example is, you might get a chance 30 seconds or a minute after you score.
"And you're thinking 'how the hell am I going to get to that ball in order to score' if I've just sprinted around the pitch to celebrate. 
"So it's interesting. I try to stay calm... but the hat-trick I scored [in March against Melbourne City] was too much even for me!"
Antonis determined to 'go places' with Western Sydney
If 'Santa' scores on Friday night, stats suggest, the Wanderers will win at Suncorp Stadium and advance to the A-League semi-finals.
He's scored in nine games this season for a total of 14 goals and Tony Popovic's men have won six and drawn three of those matches.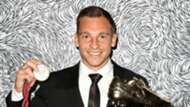 "It just shows how important my role is within the team. If I'm firing and I'm playing well that it takes a great positive effect on the team and it's great to have that responsibility," the Wollongong-born striker explained. 
"And be a leader and you know any time you score you have a big chance to win the game. The players around me when they know I score, it's a big confidence booster knowing this statistic.
"It's big for the confidence when you look at that stat. 
Cornthwaite: A-League finals wide open
"But it's a collective team effort and some of the assists I've had this year have been exceptional with some beautiful passes through to cut open defence.
"Our movement up front has been great at times and teams are seeing how ruthless we can be in front of goal of late."
Santalab is certainly wiser after a peripatetic career that began at Parramatta Power and Sydney United in the NSL, followed by stints in Singapore, Belgium, Hungary, China and the A-League.
"When I was younger, I did take it [football and success] for granted. But now is the time I realise you're very lucky that you kept going. Because those that take it for granted when they're young, stop [playing]," he said.
"So I was just blessed to keep going."