KPL
Sam Nyamweya pleads with SuperSport for second chance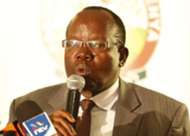 Former Football Kenya Federation President Sam Nyamweya has pleaded with SuperSport to reconsider their decision of terminating contract with Kenyan Premier League.
In a signed statement obtained by Goal, Nyamweya has urged the South African firm to rescind their move and continue to support the sport in the country. "As the person, who signed a Memorandum of Understanding between FKF and KPL, I am convinced that the ruling by Sports Disputes Tribunal did not wholly consider the interests of Kenyan football and I have already challenged against it.
Relief for AFC Leopards as key striker returns
"I therefore, plead with your esteemed organization to give a second chance to Kenyan football and reconsider the decision to terminate contract with KPL. I am persuaded that although complex, the issues you have raised can be resolved through dialogue or mediation so that the socio-economic impact of your decision is mitigated for the good of the all parties."
Nyamweya revealed that he understood the root of the problem that had forced SuperSport out but remained confident that they will return soon. "As a former President of FKF and a lover of the game, I am privy to the issues that have become a major concern and on which premise the decision to terminate contract with KPL was arrived at.
"They are pertinent issues that which we attempted to resolve during my administration and it has been my desire and hope that my successor would resolve them but unfortunately it has come to this scenario."
Okumbi: I missed Gor Mahia players against Malawi
Nyamweya concluded that the exit of SuperSport will affect the growth of the sport in the country. "SuperSport have contributed to Kenyan football what no other broadcasters has done, sometimes under very challenging situations but have been steadfast in their partnership."
SuperSport's deal with Kenyan Premier League Limited was to contractually end in 2021 before the untilmely fallout which has returned Kenyan football to darkness.