Liverpool
Salah the saviour steps up yet again to keep Liverpool alive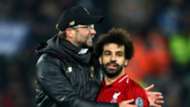 At some point the superlatives will run out, surely?
Liverpool's Champions League hopes are still alive, and as so often they have Mohamed Salah to thank.
On the big stage, with the stakes high, the Egyptian delivered. Again.
His first-half goal gave Jurgen Klopp's side what they wanted, what they needed. Their 1-0 win means it is the Reds who join Paris Saint-Germain in the last 16, while Napoli must contemplate a New Year spent in the Europa League.
Tough on the Italians, but few inside Anfield will care. Finalists last season, Liverpool will hope something special is brewing once more. What is it about this competition and the men in red?
What is it about this competition and Salah, too? He's been on Merseyside less than 18 months and he has 14 Champions League goals. Only Steven Gerrard, in the club's history, has more.
After his hat-trick at the weekend, only one goal was needed this time.
Some goal, mind.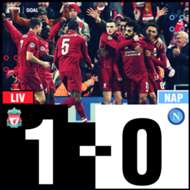 There didn't seem a huge deal of danger when James Milner rolled a ball into his feet, 11 minutes before half time.
But great players have the ability to make a lot out of very little, and Salah did just that. First he used his strength to shrug aside Mario Rui and move into the area, then he used his skill to dance past Kalidou Koulibaly, one of the world's best defenders, onto his right foot.
The angle was tight, but as David Ospina dived for a ball across goal, Salah slipped it between the goalkeeper's legs and into the net. No celebration, but as long as he's scoring there can be no issue.
That's 13 for the campaign now. For the fourth season in a row, Salah is a one-season wonder. Where will his remarkable exploits end?
At Anfield it is 35 in his last 38 appearances. In 2018, he has 34 in all competitions. Not since Robbie Fowler, who scored 37 in 1996, has a player managed more in a calendar year for Liverpool. He's the worst one-season wonder in the world, this lad. Milner, by the way, has nine assists in the Champions League since the start of last season - as many as Neymar, Lionel Messi and Luka Modric combined.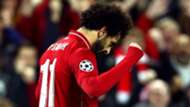 Salah was not the sole hero by any means. Liverpool would be out were it not for the brilliance of Alisson Becker, whose sprawling save from Arkadiusz Milik in stoppage time was worth every penny of the £65 million paid to Roma in the summer. "If I knew he was this good, I would have paid twice as much!" Klopp joked afterwards. At least we think he was joking.
Elsewhere, there were huge contributions all over the field. Liverpool ran until they dropped, literally in Milner's case, and could well have wrapped the game up long before they did, with Sadio Mane particularly wasteful in front of goal. Thankfully for Klopp, his team's profligacy did not come back to bite them. In Joel Matip and Andy Robertson, Gini Wijnaldum and Jordan Henderson, they had players ready to give their last drop of energy for the cause. "They played with all their hearts," their manager said.
"Create an atmosphere with the way you play," Klopp had told his team on Monday. They did that, producing a performance which was controlled in the first half, aggressive in the second.
There were signs of the old Liverpool in the way the home side pressed and harried after the break, but signs of the new Reds in the manner in which they held out. Another tight game, against strong opposition, another win. 
They have struggled on the road in Europe this season, but they are some side. Their spine is strong, they have big players in big positions, and in Salah they have one of the continent's finest match-winners. They'll fancy their chances of another big run after Christmas.
"I'm still full of adrenaline," Klopp said afterwards. "This game was just amazing, it was outstanding, unbelievable." Carlo Ancelotti, his opposite number, wondered whether Virgil van Dijk might have been sent off for a first-half challenge on Dries Mertens for which the Dutchman was booked. "We have no regrets," insisted the Italian otherwise.
The last time Napoli were here they were undone by Steven Gerrard, whose one-man show settled a rather less intense Europa League group game. There was no one-man show this time, just a team performance decorated by one magical goal and one magnificent save. Liverpool stared into the abyss and faced their fears. Top of the Premier League, they were not ready to say goodbye to the Champions League just yet. The battle is on, on both fronts.
"Klopp lift us up where we belong," read the banner on the Kop. He is, bit by bit. The manager got it right tonight, but it is his players who deserve the credit. They got themselves into this situation; here, they dug themselves out.
Who knows where this journey will end? Maybe in Madrid in May?