African All Stars
Salah, Mahrez, Mendy lead football stars to wish Napoli's Ghoulam speedy recovery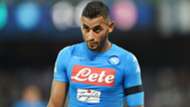 Liverpool's Mohamed Salah, Leicester City's Riyad Mahrez, Manchester City's Benjamin Mendy and Stoke City's Kurt Zouma led other football players to show their solidarity to injured Napoli defender Faouzi Ghoulam.
The 26-year-old ruptured his right anterior cruciate ligament in the Light Blues Uefa Champions League defeat to Manchester City at the Stadio San Paolo.
Following his substitution in the first half, the Algerian underwent tests according to the club website which confirmed that the defender will have a surgery.
However, with no official timescale for his recovery, football players across the world stood firm behind the former Saint-Etienne man by wishing him a swift recovery.
I'm so gutted for you my big bro i love you sooo much ! i wish you a very quick recovery in sha Allah ❤️❤️🙏🏿😩 @GhoulamFaouzi #getwellsoon pic.twitter.com/FBOJrSB3Co

— Kurt Zouma (@KurtZouma) November 2, 2017
Courage mon frère! On reviendra encore plus fort la famille! 💪🏾💪🏾
Forza fratello mio ! Torneremo più forte di prima! 💪🏾💪🏾 pic.twitter.com/JiYc47e6e9

— Koulibaly Kalidou (@kkoulibaly26) November 2, 2017
Courage frere @GhoulamFaouzi pic.twitter.com/wzcmwEPnpJ

— Maxi Alain Gradel (@maxigr04del) November 2, 2017
@GhoulamFaouzi Stay strong Faouzi! I am sure you will get through this and we will see you back on the pitch soon.

— Mohamed Salah (@22mosalah) November 2, 2017
Courage frero tu reviendra plus fort in sha Allah @GhoulamFaouzi

— Riyad Mahrez (@Mahrez22) November 2, 2017
@GhoulamFaouzi courage frero...grosse pensée pour toi.soignes toi bien💪🏽💪🏽

— Mehdi Mostefa (@MMostefa14) November 2, 2017
Forza @GhoulamFaouzi 👊🏿

— Benjamin Mendy (@benmendy23) November 2, 2017
Forza Fuz!! Tornerai più forte di prima amico mio!!💪🏻👏🏻 @GhoulamFaouzi pic.twitter.com/4o1e6BAyEh

— Pepe Reina (@PReina25) November 2, 2017