Juventus
'Ronaldo red one of the most ridiculous sendings off ever' - Shock as CR7 sent off on Juventus Champions League debut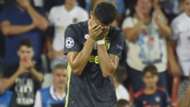 Cristiano Ronaldo was sent off on his Champions League debut for Juventus on Wednesday in what can only be termed a questionable decision. 
Having taken issue with a Valencia defender, the former Real Madrid and Manchester United started reached down and touched Jeison Murillo on the head, urging the defender back to his feet after a percieved dive. 
The straight red means that, barring an overturn of the mandatory bad, Ronaldo will miss out on both group-stage clashes with Manchester United and left the 33-year-old in tears. 
Needless to say, the football world was quick to react, with some poking fun at Ronaldo while others were understandably upset with the call. 
Ronaldo only himself to blame... definite red

— Chris Sutton (@chris_sutton73) September 19, 2018
That Ronaldo call is one of the most ridiculous sending offs ever. I'm not sure any of the officials actually saw it.

— Deji Faremi (@deejayfaremi) September 19, 2018
Cristiano Ronaldo fans right now pic.twitter.com/d2YcKgPSBs

— Troll Football (@TrollFootball) September 19, 2018
👕 154 Champions League games
🔴 1 red card

Cristiano Ronaldo leaves the pitch in tears after being sent off. 😢 pic.twitter.com/8OVS4yNi6A

— Squawka News (@SquawkaNews) September 19, 2018
How we didn't expect Cristiano Ronaldo's Champions League debut for Juventus to end...

⚪️ With a goal
⚪️ With a hat-trick
🔘 In tears

He's received his first-ever red card in the competition 😮 pic.twitter.com/VbOqOAh07q

— Football on BT Sport (@btsportfootball) September 19, 2018
How Ronaldo got a red card 😳 pic.twitter.com/AzTJJaWC81

— Bleacher Report Live (@brlive) September 19, 2018
Me trying to understand why @Cristiano gets red in VAL-JUV match? #ChampionsLeague pic.twitter.com/YctQc7Hwed

— Nicky Romero (@nickyromero) September 19, 2018
People who are making fun of @Cristiano crying after being sent off.......really shows you know nothing about football. 👎🏻💔 #UEFA @UEFAcom

— SarahEssam (@SarahEssam64) September 19, 2018
Ronaldo's reaction says it all. 😢 pic.twitter.com/8yzOMLqMLF

— FOX Soccer (@FOXSoccer) September 19, 2018
Ronaldo to the ref at HT pic.twitter.com/Q7givg6dad

— Dill (@dbaron46) September 19, 2018
Everyone saying that Ronaldo shouldn't have been sent off is ignoring the most important reason he should have been: it's really funny

— Ryan Rosenblatt (@RyanRosenblatt) September 19, 2018
#Cristiano
Trying to see what @Cristiano got sent off for! pic.twitter.com/sO85hrigks

— Ali (@Wezza_777) September 19, 2018
If, say, Diego Costa did the exact same thing as Ronaldo and got a red card, I wonder if there would be nearly as much outrage.

— Alexander Abnos (@AnAbnos) September 19, 2018
✅ Ronaldo sent off

✅ Pogba playing well

✅ Man City losing 2-0 at home

Oooh and the GOAT pic.twitter.com/3XRVYrOkBH

— Jidraff Gathura (@gathura_jidraff) September 19, 2018
So, let's just go over this one more time.

What Ronaldo did was a straight red.

Yet this, in the picture below, is just a yellow. OK, then, UEFA. pic.twitter.com/94LWNR75Do

— BWRAO (@JuventusNation) September 19, 2018