AFF Championship
Recap: AFF Championship Trophy Tour, Jakarta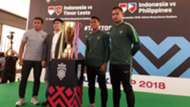 After kicking off the trophy tour in Cambodia and then reaching Myanmar, Philippines and Thailand - the tour ended in the most fiitting of places, the football-mad country of Indonesia.
The people of Jakarta were able to get up close and personal with the most prestigious trophy on offer in Southeast Asia, one which the country of approximately 265 million population is hungry to lift.
The national team of Indonesia represented by winger Febri Hariyadi was also present at the tour and suggests that the time is nigh for his country to get their name etched on the trophy.
"I believe in myself but what is more clear is that I believe in the quality of the team," said Febri. "Of course the task is difficult as it always is in football but we have done our preparations and are ready for the challenge."
Despite being perennial challengers, Indonesia has only finished five-time runner-up but are likely to be buoyed by impressive performances from their younger counterparts in the Under-19s and Under-16s in recent Asian tournaments.
The notion is also shared by the captain of the senior national team Andritany Ardhiyasa, who urges his team matest to take the opportunity this year to win the AFF Championship.
"As players we must be mentally strong. That is very important to ensure everyone stays motivated," said Adritany.
Country legend and now the new head coach of the national team, Bima Sakti has been there before in the final and looking at the squad available as being the best, vows to go one step further than he did as a player.
"Before when it was still the Tiger Cup, I've already played in the semi-final and final. This time as the coach, I'm hoping to take Indonesia to the next stage and become champions," said Bima.
For the 2018 edition, Indonesia are in Group B together with Thailand, Philippines, Singapore and Timor Leste with the tournament being played between 8 November to 15 December.