MLS
Real Salt Lake signs Justen Glad and Jordan Allen to new contracts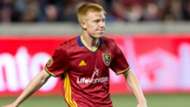 Justen Glad and Jordan Allen have signed new multi-year contracts with Real Salt Lake, the MLS side announced Saturday.
Terms of the new contracts were not disclosed.
From Morales to Rusnak: RSL hopes for seamless transition
"As an organization, we could not be more pleased with the way Justen and Jordan have represented the club at the professional and international levels while also showing to be vital parts of the Salt Lake City community," Real Salt Lake general manager Craig Waibel said in a press release. "Who they have become as men is as admirable as anything they've done on the field and it is appropriate to reward those efforts."
Glad, who is currently representing the U.S. under-20 side in World Cup qualifying, turned down an opportunity to attend Stanford to sign with Real Salt Lake in 2014. He emerged as a starter for the team in 2016, playing in 28 games last season and scoring two goal, while being voted by his teammates as the side's defender of the year.
"I'm super happy to be continuing my career with the team that gave me my first shot and has put their faith in me from day one. It's exciting to continue working with a phenomenal organization, city and fanbase," Glad said. "This is really where I want to be and I think it's an exciting tie within Real Salt Lake and MLS as a whole. I can't wait to see what 2017 holds for me and the club."
Allen signed as a homegrown player in 2013. He has made 23 appearances and 11 starts in each of the past two seasons, scoring four times and assisting on four other tallies over that span.
"I'm excited to know that I will be with Real Salt Lake for a long time. This is where I want to be and it's great that the club has this amount of faith and confidence in me," Allen said. "Now this puts the onus on me to repay that confidence on the field moving forward."
Real Salt Lake opens its 2017 MLS campaign March 4 at home against Toronto FC.