UEFA Champions League
Real Madrid's chance to prove they didn't rob Bayern last season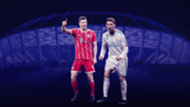 It is a European classic. Real Madrid and Bayern Munich meet again in the Champions League this term after they were paired together in Friday's semi-final draw. And there will be plenty of motivation for the German champions after last season's quarter-final tie.
Madrid won the first leg 2-1 at the Allianz Arena with Cristiano Ronaldo on target twice and ultimately prevailed 6-3 on aggregate thanks to a 4-2 win at the Santiago Bernabeu which included a hat-trick from the Portuguese.
But Bayern believed they were robbed after Arturo Vidal was sent off in Madrid and Ronaldo's second and third goals, which were scored in extra time, should have been ruled offside.
"When they rob a game from you like that, it's very tough. This error can't happen in the Champions League," Vidal (who was watching Wednesday's Madrid-Juventus game from the stands as Bayern edged out Sevilla on the same night) said afterwards.
"When it was 2-1 they got scared and the referee started putting on his show. We played with one less man at home and here, too. The referee put us out of the Champions League."
Vidal's second yellow card that night came from a challenge that was not even a foul, while Madrid midfielder Casemiro was extremely fortunate not to be sent off. However, there were also some decisions that went Bayern's way.
Earlier in the game, Vidal could have been sent off for a reckless challenge that went unpunished, while Bayern were awarded a penalty after some theatrics from Arjen Robben that many referees would not have given.
In addition, Robert Lewandowski was marginally offside for Bayern's second, a Sergio Ramos own goal, while the German side were also awarded a ridiculous penalty in the first leg in Munich, which they missed.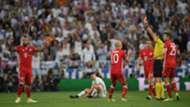 "What happened at the Bernabeu was an injustice and the whole world saw it," then Bayern boss Carlo Ancelotti said afterwards. And a year on, Real are in the spotlight again after benefitting from a contentious penalty against Juventus on Wednesday to progress to the last four.
That allowed Ronaldo to fire home in stoppage time and gave Real a 4-3 victory after they had looked like crumbling, having thrown away their three-goal lead from the first leg as Juve came storming back at the Bernabeu.
Like Bayern last year, Juve were furious and Gianluigi Buffon, who was sent off for protesting in the aftermath of the penalty decision, said:  "The team gave its all. But a human being (in reference to referee Michael Oliver) cannot destroy dreams like that at the end of an extraordinary comeback on a dubious situation. 
And later, the 40-year-old goalkeeper, who was likely to be playing his final Champions League game, added: "'You have to be a murderer to make the last two decisions the referee made."
In the semi-finals this time, Bayern will certainly feel they have an axe to grind, but Madrid will not. Big teams often benefit from big decisions, but Real are not 12-time European champions because of referees. They are the dominant force in Europe's premier club competition – and the tie against Jupp Heynckes' side is a chance to prove it all over again.