KPL
Race for Chan 2018 title set to start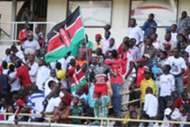 Qualifiers draw for the Chan 2018 competition, to be held in Kenya, has been released by the Confederations of African Football, Caf.
There will be two rounds to be played in determining the 15 teams that will join hosts Harambee Stars next year.  Defending champions DR Congo, who have won the tournament twice, will square it out with neighbors Congo in the first round. 
Neighbors Uganda will have to go past the winner of the match between Somalia and South Sudan in the first round, with the winner facing either Tanzania or Rwanda in the final round.
The Super Eagles face either Togo or Benin, with Ghana squaring it out with Burkina Faso.
First round matches will be played from dates 11, 12 and 13 of August this year.
Complete fixture:
Algeria v Libya
Sierra Leone v Senegal
Guinea Bissau v Guinea
Liberia v Mauritania
Gambia v Mali
Togo/Benin v Nigeria
Ivory Coast v Niger
Ghana v Burkina Faso
Equatorial Guinea v Gabon
Congo v Congo Dr
Sao Tome v Cameroon
Somalia/S.Sudan v Uganda
Tanzania v Rwanda
Djibouti v Ethiopia
Burundi v Sudan
Madagascar/Malawi v Mozambique
Seychelles/Mauritius v Angola
Comoros v Lesotho
Namibia v Zimbabwe
Botswana v South Africa
Swaziland v Zambia