MLS
Portland's Tuiloma gets a second chance to make a first impression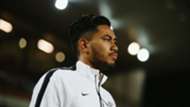 Bill Tuiloma got a second chance to make a first impression. Having first come to the United States from New Zealand as a teenager to take his place in the Los Angeles Galaxy academy, he went off in search of opportunities in Europe before returning to MLS with the Portland Timbers.
The 23-year-old defender/midfielder was part of the Galaxy team that won the Generation Adidas Cup in 2011 but would have cost the team one of their foreign player slots if he made the breakthrough to the first team. That was his cue to up sticks and move to Europe where a trial with Queens Park Rangers eventually opened the doors to the big time.
While paperwork issues prevented the West London outfit from signing Tuiloma, he was encouraged to go on trial with Olympique Marseille instead. A relationship between QPR and Marseille had been developed during the loan of Joey Barton and Tuiloma grabbed the opportunity with both hands.
"I went around a few clubs and ended up at Marseille," he says. "I had a tremendous time and learned a lot as a player and as a person outside of football. It was a really good experience playing and training with some of the best players in the world.
"I wanted this. I wanted a professional career. At first it was difficult but we learn to adapt through different aspects in our lives and in our career."
He credits the four years spent in France as a key point in his football education, working with a high-profile coach in Marcelo Bielsa and in a talented squad which contained World Cup winners Steve Mandanda, Benjamin Mendy and Florian Thauvin.
"It's good to see the players I was with a year ago win the World Cup," he says. "Congrats to them for everything they've done to win that."
And with his contract in the south of France expiring, Portland came calling.
"I talked to my manager and agent about it and also my family and it all came to a conclusion," he says. "I made the move to come here to America. I was in the academy in LA and we won the Generation Adidas Cup so I kind of had a good idea of what to expect in MLS."
A knee injury interrupted what had been a smooth transition season from the Timbers' USL side to the top team, but he's back fit and ready to regain his place in the squad. With the Timbers about to embark on an intense spell of their season, Tuiloma is hoping to hit form at the right time.
"I got injured a couple of months ago but I'm back in form now and ready to fight for my spot back," he said. "I want the team to win games and I want to be in there. I'm glad I'm back in, I'm very healthy and I'll be ready to get back on."