Tottenham Hotspur
Pochettino 'confident' Spurs will be in new stadium by Christmas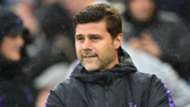 Mauricio Pochettino is hopeful that Tottenham will play in their new stadium before Christmas.
Spurs have been rocked by delays on their new home, and have been forced to move a number of fixtures to Wembley, including their Champions League group games.
A clash with Watford in the Carabao Cup has been moved to Milton Keynes, but Pochettino is confident that he and his players will be in their new surroundings by December 25.
"I am confident. This year. I am confident this year," Pochettino told reporters.
"I had some private conversations with Daniel. I think they are confident.
"They are working hard to try to find the solution. I hope before the year, before Christmas, we can play. That's my wish.
"We have conversations every day. He (Levy) called me before training and on Monday we took a coffee here at the restaurant.
"Sometimes he tells me, sometimes he opens the conversation about the stadium, sometimes I open the conversation and say, 'Daniel, how is the stadium?' and sometimes it's tough to explain.
"But yes we hope and we heard before, I am very confident before the end of the year.
"I hope that after that comment Daniel doesn't kill me! 'Why you put this expectation on me?' He's going to kill me."
Spurs kick off their Carabao Cup campaign on Wednesday, looking to build on their 2-1 win over Brighton at the weekend.