Premier League
Pochettino breaks Liverpool jinx in front of record Premier League crowd - Review brought to you by Dashing Elite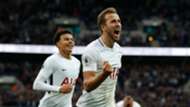 In a match played at breathless pace, Mauricio Pochettino's Tottenham Hotspur finally broke their Liverpool jinx. And they did so in some style: a 4-1 win in front of a Premier League record crowd of 80,827 at the Wembley Stadium, which they now call their home.
Before the tie, a keen contest was expected between Liverpool's centre-back Dejan Lovren and Spurs striker Harry Kane. The Croatian had been struggling through a run of bad form which sank to a new low on the night. So much so that the 28-year-old made crucial blunders to give the hosts a two goal lead before manager Jurgen Klopp substituted him after the half-hour mark.
After nine rounds of Premier League football this season, Liverpool has had the leakiest defence among all top-flight teams when away from home (15 conceded). And just as Liverpool's defensive struggles surfaced once again, the Spurs forwards sliced through them with purpose. They scored four goals off just 14 shots at the goal. It saw the Spurs manager get his first win over Liverpool in 10 games: he had recorded six losses and three draws since taking charge in 2014.
Marking Kane, Lovren allowed the striker to get past him towards goal for the opening goal. On that occasion, goalkeeper Simon Mignolet too was at fault for prematurely rushing forward even though Joel Matip was available for cover. The defensive mix-up left Kane with an open-goal to shoot at in just the fourth minute.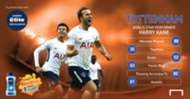 In the 12th minute, Lovren failed to read Hugo Lloris' long throw and again allowed Kane to run freely down the flank. The Englishman made no mistake in his low cross that the on-rushing Heung Min Son finished expertly. More mistakes were made before Klopp decided to end Lovren's match. Still the blunders came pouring in from the visitors.
There was some reprieve however, along with a faint glimmer of hope, when Kane was fouled in the midfield area, but the referee allowed play to continue. Jordan Henderson collected the loose ball and sent a delightful through ball across field. Egyptian winger Mohamed Salah sped between two Spurs defenders before his mishit found the goal.
There was a sense that Liverpool might make a game out of it as both teams spent the next few minutes sparring at full pace. Until the third minute of stoppage time in the first half, when Dele Alli scored Spurs' third.
A Christian Eriksen freekick was headed away by Joel Matip, but no other Liverpool defender reacted well enough to stop Alli from volleying home from 18 yards. Later in the second half, Kane got his second of the match after a terrible punch from Mignolet.
The loss keeps Liverpool down in ninth position, already 12 points adrift from table toppers Manchester City. Spurs meanwhile are level on 20 points with second placed Manchester United, but trail only on goal difference.