Transfers
Orlando Pirates beef up technical team with three new acquisitions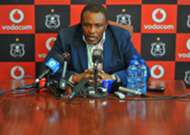 Orlando Pirates  have announced new arrivals in their technical team as they prepare to challenge for trophies in the upcoming 2018/19 Premier Soccer League (PSL) season.
Following reports that former Swansea City goalkeeper coach, Andrew Sparkes was on his way to the Soweto giants, Pirates have since made it official on Monday.
In an official statement, Pirates announced Sparkes, Darian Wilken and Franck Plaine as part of their technical team.
On the other hand, the Soweto giants have also announced the departure of goalkeeper coach, Ivica Vukusic and wished him well in his future endeavours.
According to the statement, Sparkes will succeed Vukusic at Mayfair and former AmaZulu's Wilken has been appointed as an analyst together with Kyle Solomon and Michael Loftman.
Moreover, Plaine takes over the role of head of performance following the departure of Andre Volsteedt who left at the beginning of June.
"Orlando Pirates Football Club is delighted to welcome Andrew Sparkes, Darian Wilken and Franck Plaine to the technical team," read the statement.
"Andrew Sparkes joins the stable for the upcoming season as the Goalkeeper Coach of the senior team, while Darian Wilken will form part of the Buccaneers Football Analysis Department alongside Kyle Solomon and Michael Loftman, who both joined the club earlier in the year," announced the Soweto giants.
"Our final addition to the technical team is Franck Plaine, who will be the Head of Performance – a post recently vacated by Andre Volsteedt who left the club earlier this month," said the club.
"While we welcome these three gentlemen, we also say farewell to another. The club would like to thank goalkeeper coach Ivica Vukusic for his services and wish him all of the best in his future endeavours," concluded the statement.
Having been part of the relegated English Premier League side, Swansea, Sparkes left the club as they prepare for life in the English Championship.
He served the club since 2012 and has been the U23 goalkeeper coach, head of academy in their goalkeeping department for six years and also served as RB Salzburg's U18 goalkeeper coach for a year before joining Swansea.
Sparkes is currently studying towards his Uefa A Goalkeeper Licence and holds a Uefa B Goalkeeper Licence as well as Uefa B Licence.
Meanwhile, the three new faces will work alongside coaches in Milutin Sredojevic and Rulani Mokwena ahead of the highly anticipated 2018/19 campaign.