AFC U23 Championship
OKS wary of China under stewardship of Hiddink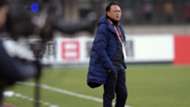 Following the success of reaching the quarterfinal stage of the 2018 AFF U23 Championship in China early this year in January, Malaysia were given a relatively easy draw having been placed in Pot 1 at the start of the draw.
As one of the five nominated host countries for the qualifiers, Malaysia were placed in Group J together with China, Laos and Philippines in the East Zone of the draw. The qualifiers will be held between March 22 - 26 in 2019. 
The 11 group winners and four best second-placed teams among all groups shall qualify for the Finals, with the host of the Finals (Thailand) receiving automatic qualification. In the event that Thailand finishes among the qualified teams to the Finals (either top of the group or one of the four best second-placed teams), the next (fifth) second-placed team in the ranking among all groups will qualify to the Final instead.
"In our group, I believe that China will be the main challenger but of course we cannot discount Laos and Philippines. We know that China have taken Guus Hiddink to take charge of their U23 squad and that showed just how serious they are towards this qualifier as well as the Olympics."
"What is important is that we have a good preparations. If we have no obstacle to do that, I'm sure we can do well in the qualifiers.
"We will start our preparations at the end of this month with the Newspaper Cup in Vietnam. Then I will call the players again in January for a period of 20 days where we will have a series of friendlies both at home and abroad. From there we head straight into the AFF U22 Championship in Cambodia," said Kim Swee.
The national U23 head coach is currently in Cambodia to take in Malaysia's opener in the 2018 AFF Suzuki Cup as well as to make initial preparations for the AFF U22 Championship that will see him returning to Phnom Penh in February of 2019.
The 2020 AFC U23 Championship finals in Thailand offers the top three teams in the tournament a place in the 2020 Tokyo Olympics.
Follow Goal Malaysia on Instagram