Young Africans
Nsajigwa: We were deservedly punished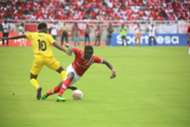 Yanga Assistant Coach, Shadrack Nsajigwa has conceded that the 1-0 defeat from their arch rivals Simba in Sunday's Premier League clash at Benjamini Mkapa National Stadium was down to their own mistakes.
The defeat left Yanga with no hope of defending their crown for the fourth time in a row while the win helped Simba to edge closer to the title for the first time in five season.
Speaking after the match, Nsajigwa said that they were deservedly punished due to the errors they committed especially in the first half.
"I think we were deservedly punished because we committed mistakes. We didn't play our game, everything was slow and we did not win second balls, we gave them opportunities to win the match by being solid in defense and smelling the chances in set plays" said Nsajigwa.
Central defender Erasto Nyoni was the match winner after racing into the box to head in a Shiza Kichuya's free kick in the 37th minute.
Yanga who are without a Head Coach since the sudden departure of George Lwandamina offered little in attack something which led them to not to getting a single corner kick compared to Simba's 11.
Simba now lead the table with 62 points and only need five points from their remaining four matches to clinch the title.