Young Africans
Nsajigwa: We are all disappointed with the result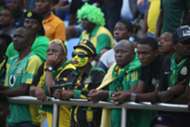 Yanga Assistant Coach, Shadrack Nsajigwa has revealed that all the team is disappointed with the recent results but has insisted that there is no time for the blame game at the moment.
Speaking after receiving another 1-0 defeat from Mwadui, Nsajigwa said that they have tried to turn things around but results have not come their way.
He added that they feel disappointed but they will not blame anybody at this moment were they are passing through hard times.
"We are all disappointed that the result didn't come our way, we will keep trying and there is no time to blame any body at this moment.
Yanga are winless in nine games in all competitions since the departure of their former Head Coach, George Lwandamina who re-joined his former club Zesco United.